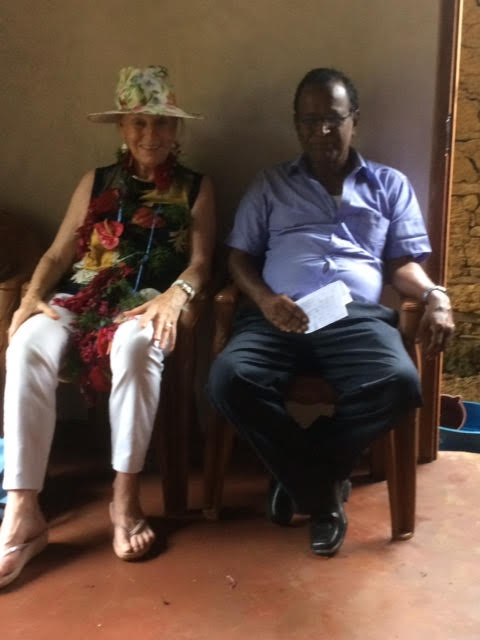 We were exhausted on our arrival in Colombo after waiting 6 hours for the
connecting flight from Dubai. After one days rest we purchased exercise and
drawing books, pencils and coloured crayons for distribution to children and
Montessori Schools.
We went to see an old lady aged 95 living in a tiny house in Kotugada which is
quite close to the main Airport. She was being looked after by her
granddaughter on a full time basis The old lady is bedridden and in a very
poor state of health. The family are struggling as the granddaughter cannot go
to work. ONCE IN A LIFETIME are now sponsoring her for the lifetime of the
old lady.
On the next day we drove for five hours to Kotmale which is located in the centre
of Sri Lanka in the mountains about 6,000 ft. above sea level. We inspected
three completed projects and donated clothing and food packs. We also
inspected several potential projects for consideration. We visited our
Montessori School in Pussellawa and one of our sponsored children. We then
went on to our main base in Central Northern Sri Lanka at Habarana. We
visited our further five Montessori Schools and other projects commenced after
our visit in May 2018. These were all satisfactorily completed. We started a
further 14 housing projects and an addition 19 toilets for individual houses.
Two ladies were sent to the Centre for the Handicapped in Kandy for limb
replacements. We also visited our sponsored children who all continue to
receive a monthly contribution. 70 Food Packs were distributed together with
the contents of our 3 shipped tea chests of toys, clothing and books.
We had wall-to-wall sunshine for the duration of our stay. It was a bit
exhausting working in the midday sun! We covered over 1,800 kilometres
without a mishap except 2 punctures.
A very rewarding and successful visit.