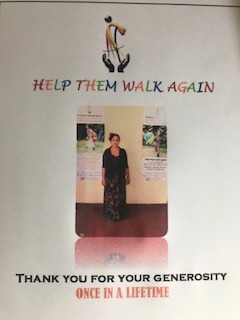 Mrs. Priyadarshani Chandrathilaka, 29 years old, lives with her husband and 2 children in Habarana.
This is the story she related to us:
On that unfortunate day, I was on my way to Galapitigama with my husband; the three wheeler we were travelling in went off the road. I was injured severely; I was immediately admitted to the Polonaruwa General Hospital by the pedestrians. I was given pre-operative treatment at the Polonaruwa General Hospital for four days, thereafter transferred to the Peradeniya General Hospital. The doctors at the Peradeniya Hospital informed me that my left leg from below the knee had to be amputated as it was severely damaged.
I was feeling sad and frustrated after the amputation of my leg and at this point was when I met Mr. Collin and Mrs. Rosemarie Bray from Once in a Lifetime who said that I could obtain an artificial leg from the Centre for Handicapped in Kundasale and that they would sponsor the artificial limb.
I visited the Centre for Handicapped, as advised by Once in a Lifetime, the staff at the Centre welcomed me warmly and took the required measurements of the leg and gave me a date to come back. When I visited the Centre on the particular day, the officials fitted the artificial leg which was made for me and trained me to walk. I felt very happy when I walked with the help of the artificial leg.
I take this opportunity to thank the generous donor for giving me another chance to walk and also the staff at the Centre for Handicapped for their enormous support.