THANK YOU FROM MR. D.G.WIJERATHNE/THE CENTRE FOR THE HANDICAPPED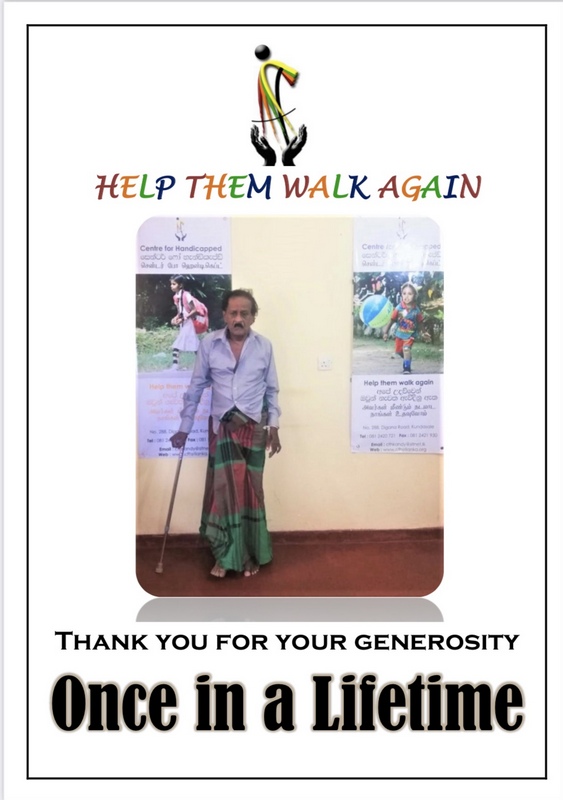 Mr. D.G. Wijerathne is 67, lives with his family in Polonnaruwa. He was a security guard before he lost his leg.
This is the story he related to us: (The Centre for the Handicapped)
I had a small wound on my right leg for which I was treating at home but after a few days it started to swell up. I went to the Polonnaruwa General Hospital to get a blood test and treatment for the wound and swelling. The blood report confirmed I was suffering from vascular disease. The doctors said my right leg had to be amputated from above the knee, as the disease can spread to the other parts of the body. I was depressed after hearing this but decided to agree to the amputation as I had no choice. I was hospitalized for almost 1 year.
I was feeling sad and frustrated after the amputaion of my leg and at this point was when I met a generous donor who said that I could obtain an artificial leg from the Centre for Handicapped in Kundasale and that they would sponsor the artificial limb. I felt very happy and visited the Centre for Handicapped. I was warmly welcomed by the officials; they took the required measurements and gave me a date to come back. When I visited the centre again. I was fitted with an artificial leg that was made for me and they trained me to walk. I felt very happy that I was able to walk with the help of the artificial leg.
My heartfelt thanks go out to both the generous donor and the Centre for Handicapped for giving me another change to walk again.